FIND YOUR
PERFECT BRAND
Explore the top latex mattresses to see how they compare
Ikea is a Swedish company that was a pioneer in ready-to-assemble furniture and housewares, with a focus on simplicity and affordability. The company offers many mattresses including the MAUSUND, its 100% latex model, which includes 85% natural latex and 15% is synthetic latex. The MAUSUND has one layer of latex, topped by a layer of wool wadding filling for support and comfort. This mattresses is only sold in stores and comes fully assembled, weighing in at 136lbs. for a Queen size.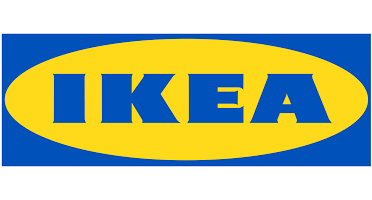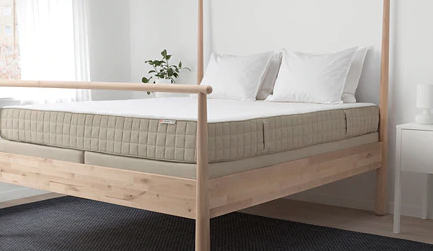 What's Inside?

1 Layer 85% Natural / 15% Synthetic Latex Foam

Comfort Padding

100% Cotton Cover
How the Ikea MAUSUND Compares
We've selected 2 other mattresses that closely compare with the Ikea MAUSUND below.
<table class="compare-table"><!-- [et_pb_line_break_holder] --><thead><!-- [et_pb_line_break_holder] --><tr><!-- [et_pb_line_break_holder] --><th><img src="https://www.latexmattressbuyersguide.com/wp-content/uploads/2018/09/Group-1.png" /></th><!-- [et_pb_line_break_holder] --><th><img src="https://www.latexmattressbuyersguide.com/wp-content/uploads/2018/09/IKEA.png" /></th><!-- [et_pb_line_break_holder] --><th><a href="https://www.latexmattressbuyersguide.com/sleep-ez-roma/" ><img src="https://www.latexmattressbuyersguide.com/wp-content/uploads/2018/09/SLEEP-EZ.png" /></a></th><!-- [et_pb_line_break_holder] --><th><a href="https://www.latexmattressbuyersguide.com/casper-wave/" ><img src="https://www.latexmattressbuyersguide.com/wp-content/uploads/2018/09/CASPER.png" /></a></th><!-- [et_pb_line_break_holder] --></tr><!-- [et_pb_line_break_holder] --></thead><!-- [et_pb_line_break_holder] --><tbody><!-- [et_pb_line_break_holder] --><tr><!-- [et_pb_line_break_holder] --><td>Price</td><!-- [et_pb_line_break_holder] --><td>$899 (Queen)</td><!-- [et_pb_line_break_holder] --><td>$750 (Queen)</td><!-- [et_pb_line_break_holder] --><td>$1,995(Queen)</td><!-- [et_pb_line_break_holder] --></tr><!-- [et_pb_line_break_holder] --><tr><!-- [et_pb_line_break_holder] --><th>Model</th><!-- [et_pb_line_break_holder] --><td>MAUSUND</td><!-- [et_pb_line_break_holder] --><td>Roma</td><!-- [et_pb_line_break_holder] --><td>Wave</td><!-- [et_pb_line_break_holder] --></tr><!-- [et_pb_line_break_holder] --><tr><!-- [et_pb_line_break_holder] --><th>Inside</th><!-- [et_pb_line_break_holder] --><td>1 Layer Natural Latex</td><!-- [et_pb_line_break_holder] --><td>6″ of 100% Natural Dunlop Latex with finished height of 9″</td><!-- [et_pb_line_break_holder] --><td>1 Layer Latex, 4 Layers Other Foam</td><!-- [et_pb_line_break_holder] --></tr><!-- [et_pb_line_break_holder] --><tr><!-- [et_pb_line_break_holder] --><th>Cover</th><!-- [et_pb_line_break_holder] --><td>Cotton</td><!-- [et_pb_line_break_holder] --><td>Quilted Organic Cotton Knit</td><!-- [et_pb_line_break_holder] --><td>Polyester/Rayon Blend</td><!-- [et_pb_line_break_holder] --></tr><!-- [et_pb_line_break_holder] --><tr><!-- [et_pb_line_break_holder] --><th>Type</th><!-- [et_pb_line_break_holder] --><td>Not Customizable or Adjustable</td><!-- [et_pb_line_break_holder] --><td>Flippable – 2-N-1 Luxury Plush/Gentle Firm</td><!-- [et_pb_line_break_holder] --><td>Not Customizable or Adjustable</td><!-- [et_pb_line_break_holder] --></tr><!-- [et_pb_line_break_holder] --><tr><!-- [et_pb_line_break_holder] --><th>Free Trial</th><!-- [et_pb_line_break_holder] --><td>No Sleep Trial</td><!-- [et_pb_line_break_holder] --><td>90 Day Sleep Trial</td><!-- [et_pb_line_break_holder] --><td>100 Day Sleep Trial</td><!-- [et_pb_line_break_holder] --></tr><!-- [et_pb_line_break_holder] --><tr><!-- [et_pb_line_break_holder] --><th>Shipping</th><!-- [et_pb_line_break_holder] --><td>Free Shipping</td><!-- [et_pb_line_break_holder] --><td>Free Shipping</td><!-- [et_pb_line_break_holder] --><td>Free Shipping & In-Home Setup</td><!-- [et_pb_line_break_holder] --></tr><!-- [et_pb_line_break_holder] --><tr><!-- [et_pb_line_break_holder] --><th>Warranty</th><!-- [et_pb_line_break_holder] --><td>20 Year Warranty</td><!-- [et_pb_line_break_holder] --><td>10 Year Warranty</td><!-- [et_pb_line_break_holder] --><td>10 Year Warranty</td><!-- [et_pb_line_break_holder] --></tr><!-- [et_pb_line_break_holder] --></tbody><!-- [et_pb_line_break_holder] --></table><!-- [et_pb_line_break_holder] --><p> </p>