FIND YOUR
PERFECT BRAND
Explore the top latex mattresses to see how they compare
The Legend Sleep Geneva mattress is a 12″ Talalay latex mattress made up of a 3″ graphite-infused comfort layer, 3″ support layer and a 6″ base layer. The cover is a poly-blend material and features a zipper and is removable for washing.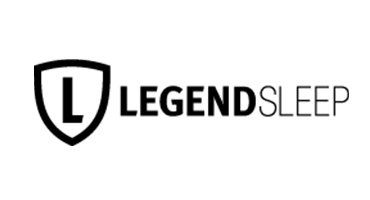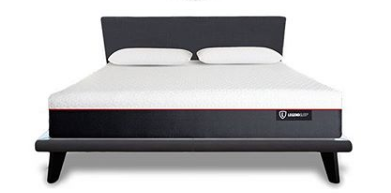 What's Inside?

3″ Graphite Infused Talalay Latex Layer

3″ Support Layer

6″ Base Layer
How the Legend Sleep Geneva Compares
We've selected 2 other mattresses that closely compare with the Legend Sleep Geneva below.
<table class="compare-table"><!-- [et_pb_line_break_holder] --><thead><!-- [et_pb_line_break_holder] --><tr><!-- [et_pb_line_break_holder] --><th><img src="https://www.latexmattressbuyersguide.com/wp-content/uploads/2018/09/Group-1.png" /></th><!-- [et_pb_line_break_holder] --><th><img src="https://www.latexmattressbuyersguide.com/wp-content/uploads/2018/09/LEGEND-SLEEP.png" /></th><!-- [et_pb_line_break_holder] --><th><a href="https://www.latexmattressbuyersguide.com/sleep-ez/" ><img src="https://www.latexmattressbuyersguide.com/wp-content/uploads/2018/09/SLEEP-EZ.png" /></a></th><!-- [et_pb_line_break_holder] --><th><a href="https://www.latexmattressbuyersguide.com/savvy-rest/" ><img src="https://www.latexmattressbuyersguide.com/wp-content/uploads/2018/09/SAVVY-REST.png" /></a></th><!-- [et_pb_line_break_holder] --></tr><!-- [et_pb_line_break_holder] --></thead><!-- [et_pb_line_break_holder] --><tbody><!-- [et_pb_line_break_holder] --><tr><!-- [et_pb_line_break_holder] --><td>Price</td><!-- [et_pb_line_break_holder] --><td>$2,999 (Queen)</td><!-- [et_pb_line_break_holder] --><td>$1,495 (Queen)</td><!-- [et_pb_line_break_holder] --><td>$3,099 (Queen)</td><!-- [et_pb_line_break_holder] --></tr><!-- [et_pb_line_break_holder] --><tr><!-- [et_pb_line_break_holder] --><th>Model</th><!-- [et_pb_line_break_holder] --><td>Geneva</td><!-- [et_pb_line_break_holder] --><td>9″ Lifetime Dreams</td><!-- [et_pb_line_break_holder] --><td>Serenity</td><!-- [et_pb_line_break_holder] --></tr><!-- [et_pb_line_break_holder] --><tr><!-- [et_pb_line_break_holder] --><th>Inside</th><!-- [et_pb_line_break_holder] --><td>3 Layers Talalay Latex</td><!-- [et_pb_line_break_holder] --><td>One 2″ layer of 100% Organic Latex, Two 3″ layers of Organic Latex for a finished height of 9″</td><!-- [et_pb_line_break_holder] --><td>3 Layers 100% Natural Talalay or Dunlop Latex</td><!-- [et_pb_line_break_holder] --></tr><!-- [et_pb_line_break_holder] --><tr><!-- [et_pb_line_break_holder] --><th>Cover</th><!-- [et_pb_line_break_holder] --><td>Poly-Blend</td><!-- [et_pb_line_break_holder] --><td>100% Cotton Knit with 1″ Quilted New Zealand Joma Wool, Zippered</td><!-- [et_pb_line_break_holder] --><td>Organic Cotton and Wool, Zippered</td><!-- [et_pb_line_break_holder] --></tr><!-- [et_pb_line_break_holder] --><tr><!-- [et_pb_line_break_holder] --><th>Type</th><!-- [et_pb_line_break_holder] --><td>Not Customizable or Adjustable</td><!-- [et_pb_line_break_holder] --><td>Customizable & Adjustable</td><!-- [et_pb_line_break_holder] --><td>Customizable & Adjustable</td><!-- [et_pb_line_break_holder] --></tr><!-- [et_pb_line_break_holder] --><tr><!-- [et_pb_line_break_holder] --><th>Free Trial</th><!-- [et_pb_line_break_holder] --><td>90 Day Sleep Trial</td><!-- [et_pb_line_break_holder] --><td>90 Day Sleep Trial</td><!-- [et_pb_line_break_holder] --><td>90 Day Layer Exchange Only</td><!-- [et_pb_line_break_holder] --></tr><!-- [et_pb_line_break_holder] --><tr><!-- [et_pb_line_break_holder] --><th>Shipping</th><!-- [et_pb_line_break_holder] --><td>Free Shipping</td><!-- [et_pb_line_break_holder] --><td>Free Shipping</td><!-- [et_pb_line_break_holder] --><td>Free Shipping</td><!-- [et_pb_line_break_holder] --></tr><!-- [et_pb_line_break_holder] --><tr><!-- [et_pb_line_break_holder] --><th>Warranty</th><!-- [et_pb_line_break_holder] --><td>20 Year Warranty</td><!-- [et_pb_line_break_holder] --><td>20 Year Warranty</td><!-- [et_pb_line_break_holder] --><td>20 Year Warranty</td><!-- [et_pb_line_break_holder] --></tr><!-- [et_pb_line_break_holder] --></tbody><!-- [et_pb_line_break_holder] --></table><!-- [et_pb_line_break_holder] --><p> </p>